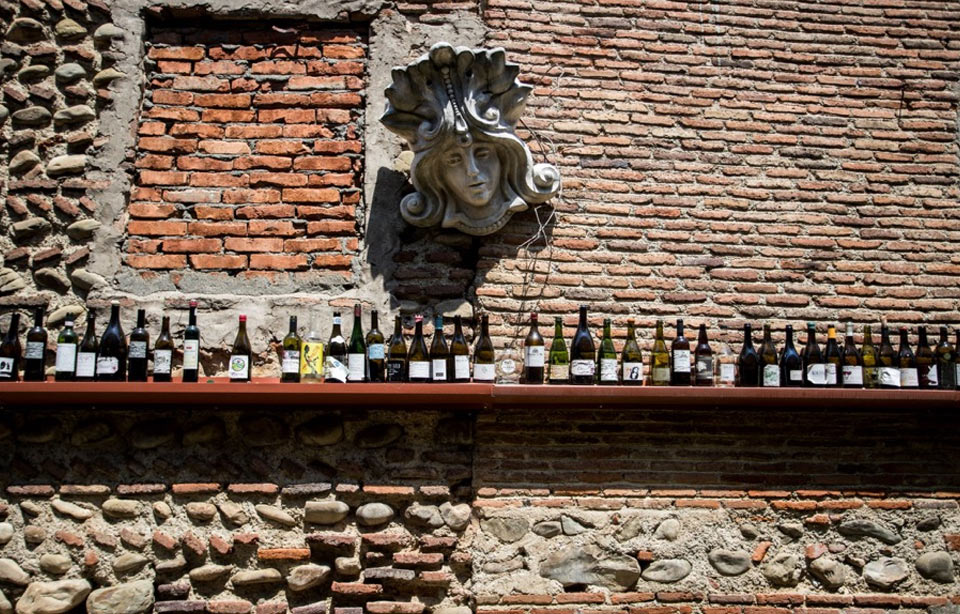 Wine, or Ghvino in Georgian, is considered sacred. Georgian Qvevri, the clay vessels used for winemaking here, have been found containing fossilized cultivated grape seeds dating back to 6,000 – 8, 000 BC. There are more than 525 indigenous varieties of wine in Georgia and a multitude of rare micro regions. One of Georgia's distinct styles of winemaking, fermenting and aging white grapes on their skins, produces rich, tannic Amber wines. These unique varieties, methods, and flavors pair perfectly with Georgia's cuisine. At the Supra, Georgian feast, drinking will be led by a Tamada, toastmaster, who will use eloquent, philosophical, and poetic toasts to elevate the feast and enliven the guests.
Wine in Georgia is experiencing a renaissance. Growers and winemakers, limited to home production in the Soviet days, have spent the last decade using Georgia's unique traditions to turn the wine world on its head. We invite you to taste wines unlike any others, made by ancient monasteries, internationally renowned wineries, and individual home producers eager to share the fruits of their labour.
The rugged province of Kakheti is known as Ground Zero for Georgian wine, producing 68% of the country's wine, with 75% of grapes grown for production. Divided into sub-appellations, it's home to 14 of the 18 Protected Designations of Origin (PDOs). Since ancient times Georgia has been known as a country of grapes and wine. Wine production is hardly imaginable without a Qvevri − a handmade, egg-shaped clay vessel that's buried in the ground up to its collar. Wine-making in these traditional vessels goes back at least 8000 years and is still practiced today. This ancient method is considered one of Georgia's many cultural achievements and treasures. Wine plays a central role in the social lives of Georgians. It's considered a crucial part of hospitality − a valuable offering in the facilitation of goodwill and friendship.
Georgian cuisine is as fascinating and layered as its history. Undoubtedly the cultures that traded and battled with Georgia left their influence on the cuisine that mingled with Georgia's very own unique culinary arts. Georgian cuisine and Lost Ridge seasonal menu is dominated by food prepared with love from the finest and natural local ingredients. Inspired by traditional culinary spirit of Georgia, the Lost Ridge offers a modern perspective for the exploration of Georgia's vivid gastronomic world.
Our handcrafted ales complement The Fire Kitchen's menu of local specialties, prepared with seasonal ingredients and in an open outdoor kitchen. Our main menu changes seasonally as we play with ingredients harvested from private farms and small local producers found in the village markets of the amazingly agriculturally rich region of Kakheti. We also love experimenting and creating traditional or special menus for your special events or group visits.
We operate daily from 11:00 – 20:00; Special operation hours are possible for group bookings and private events.Contact us directly to book your beer tasting with lunch or dinner.
(please contact us in advance due to COVID19 restrictions)